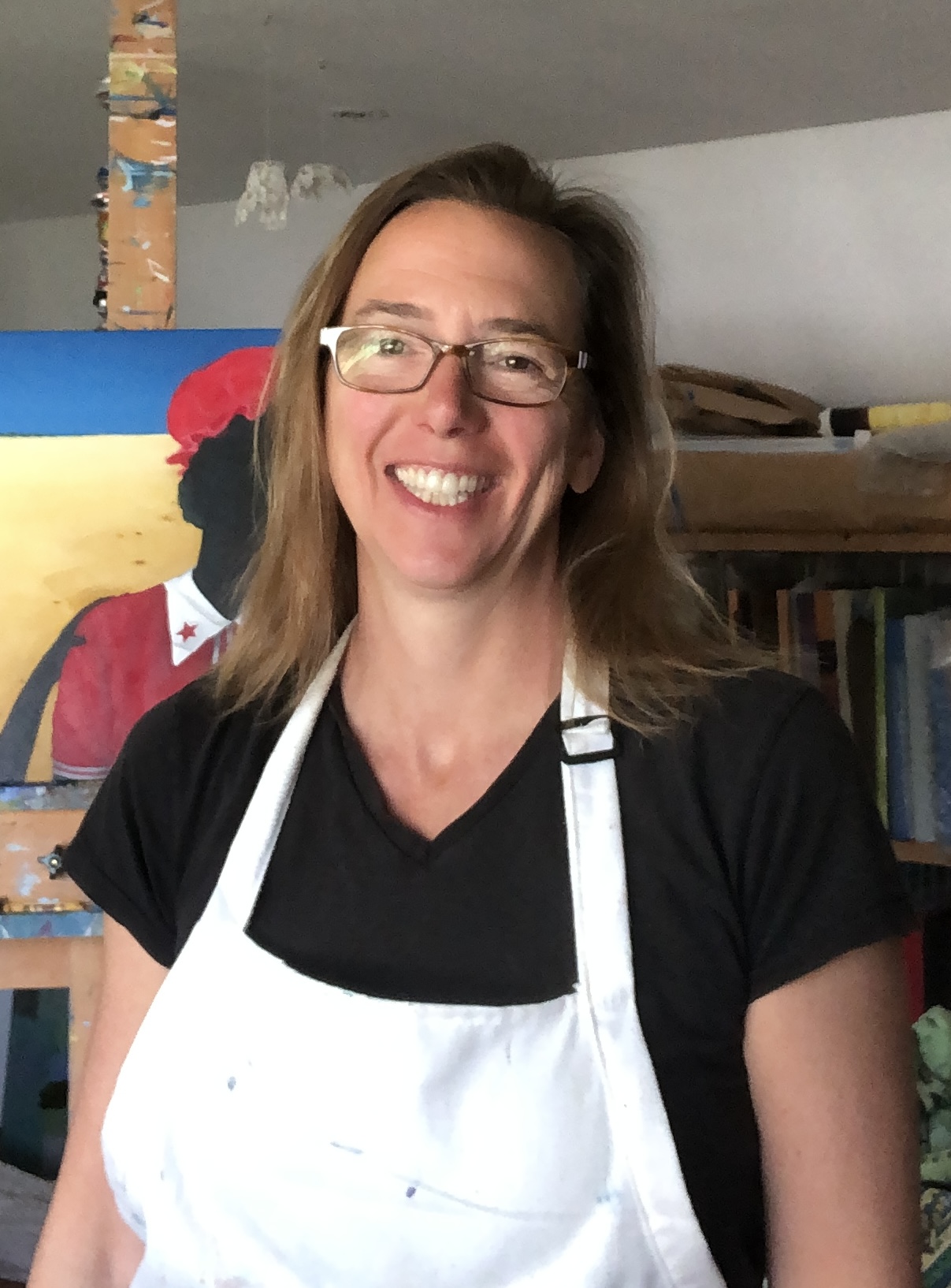 STATEMENT
My paintings explore the untold stories of women in history with an emphasis on costume and fashion. These narratives highlight a woman's perspective. I hope my vignettes illuminate an obscured social history and offer a personal connection. By focusing on costume and clothing, another dynamic story is overlaid. Clothing can reveal specific identifiers about a subject, such as age, gender, social class, religion,
race, and time period. Our clothing also symbolizes hopes, desires, memories, loss, and human drama.

The female subjects of my work are depicted with a blackened face and arms. She is simultaneously the every woman and the anonymous woman. She is ageless and timeless. She is a woman stripped of political cause. By omitting facial identifiers, her story is recognized as a universal story of courage, strength, pride and our common human condition. Additionally, these subjects represent shadows. They are the shadows of the unrecognized woman who didn't "make" the books and slipped through the cracks of history.

Female subjects that demonstrate bravery, perseverance, and a universal human struggle feed my soul. Personally, our political, environmental and recent social history has left me depleted. Through my connection with women in history, I feel recharged and hopeful. I adore that these women are the ancestors of young women today. I hope my painting and narratives provide inspiration.
BIOGRAPHY
Maremi grew up in Alexandria, Virginia. She earned a BFA from Cornell University and a MFA from Clemson University. Her work has been exhibited regionally and nationally. Her painting, "The Suffragists" was exhibited in The Phillip's Collection 2021 show, "Inside Outside, Upside Down". "The Suffragists" was highlighted in The Washington Post review of the show and an audio stop was created for the painting. At The McLean Project for the Arts, "Not Strictly Painting 2021", her painting, "Furs" was chosen for a Juror's Choice Award. At Riverviews Artspace in Lynchburg, VA,her painting, "Headwrap and Neckerchief" was awarded an honorable mention and a people's choice award. Four of her female portraits from the "History Adorned"
series were recently acquired by the Zimmerli Art Museum at Rutgers, NJ. Most recently she was a semifinalist for the Bethesda Painting Award. Future 2022 shows include a solo titled "The Annotated Vessel", at Delaplaine Arts Center: satellite branch. She is represented by Adah Rose's Gallery in Kensington, MD. Maremi lives and work in the Mount Vernon area.